Tuesday, the door bell rang. And who was standing there but my mail carrier with a package in her hands. I thought to myself, "I haven't ordered anything and my family surely wouldn't be sending me gifts since I am seeing them in a few days." Then I read the name Lawrence on the box. I was so very confused because I knew she had already sent me the Pay It Forward gift (which I am a bad, bad person because I have yet to post on that - I promise I will though; so stay tuned - gifts await your future).
Anyway, I proceeded to open the box and to my surprise Devin had sent me one of the aprons I have been admiring from afar on her blogs.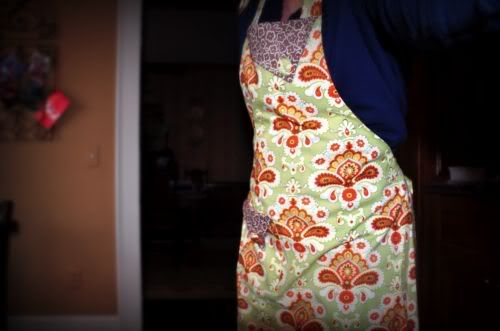 Tears literally came to my eyes not just because of how much I LOVED the apron but because of her kind, selfless gesture. I only wish I could be half the person she is - a person who is constantly thinking of others, a person who takes time out of their day to mail a package to a friend they haven't seen in years (I'm doing good to get Christmas cards out) and a person who is just as lovely on the inside as she is on the outside.
So to Devin, thank you sooooooo much - for the gift, for the thought, and for the example you set. May we all be so selfless, not just during the holidays but year-round.
And for the rest of you, please be sure to check out
Devin's cutie-patootie blog
and leave her some sweet comments and stop by
the blog Devin started for her mom
in order to display and sell her beautiful and wonderfully made aprons. Her mom is quite the seamstress!