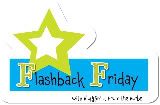 Apparently I jinxed the entire state of Oklahoma last week when I said we'd been enjoying spring-like weather; because at the onset of the week, we were bombarded with ice which left us trapped in the house for three days....can you say "Cabin fever"? So next time I brag about our having springy weather, I will remember to do it when it is actually spring and not just January.
Today is the last Friday of January so this is the last "Snow" or "What winter means to you" post I will be doing. To celebrate the occasion I am posting yet another very old picture of my mom, my dad and me (because they love it so much when I post photos of them in their 1970s garb - lol). This photo was taken during the winter of 1978-79 outside our first little house in Georgia. Seeing as how I was born only four or five months earlier, I'd guess that this was one of my first snows.
Next month's assignment: For every Friday in February, post a picture of "Love". That means you can post photos of people in love or showing love. You could post photos of those you love or simply photos you love. February is pretty much up for grabs as to what you can post. Can't wait to see what you all come up with. Happy hunting!
Flashback Friday Participants
Powered by... Mister Linky's Magical Widgets.