Yay! It's Friday! Although, it has actually felt like Friday for the past couple of weeks. I can't even tell you how off I am on my days right now. Maybe next week I will be able to ease my way back into a routine...that is, once I get all of my Christmas decorations down, my laundry done, my house cleaned, the bills paid...oh wait, maybe that is my routine.
Anyway, this week's assignment was to either post an old New Year's/New Year's Eve picture
or
one of "Snow". I decided to go with the New Year's pic and here's why:
It was exactly 10 years ago yesterday that Josh and I officially "started dating". We had been best friends for a while before that and honestly, I couldn't imagine my life without him. That's not-to-say we didn't have a falling out or two during that time (mostly my doing...he's completely blameless...on second thought, there was this one time...okay, that's another story for another time).
My point is it is so funny how much life can change in 10 years - we both graduated from college, we got married, had two kids, have lived in three different houses (
the last of which
will be the bane of my existence - did you ever see the movie
Money Pit
- yeah, that movie
IS
my life when it comes to the house). Anywho, we have traveled to Georgia, Florida, Tennessee, New York, Hawaii, Colorado, California, etc and most importantly, we have both grown not only closer to one another but we have matured mentally and spiritually as well.
The following picture is not that great but it is a reminder to me of where we started and how far we have come.
**Update: I couldn't find the photo I was looking for, which is really annoying since I remember seeing it a couple of weeks ago...with my luck, I'll find it tomorrow accidentally. So, since that one is a no-go, I am posting one of Josh and I in the snow. We had probably been dating a year or so when this one was taken.**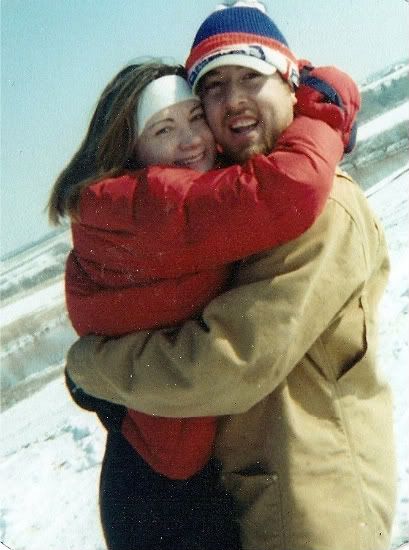 Hope you all had a wonderful New Year's! Please remember to try and link back to here within your post so that others can join in as well. And remember that January's assignment is to post photos of "Snow".
Flashback Friday Participants
Powered by... Mister Linky's Magical Widgets.