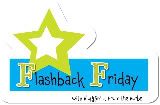 March's assignment: Sports and Recreation. It's time to dig deep into those photos and find some pictures of yourself or your kids playing a sport, dancing, ice skating, playing chess...or darts...or pool...or whatever it is that floats your boat. I am dying to see what photos you all end up posting. This should be a really fun month.
First of all, I apologize for getting this posted a little late today. Like I said yesterday, it's just been one of those weeks. Anyway, before I get on with my Flashback Friday, I wanted to tell you all I have started listing the month's themes underneath the Flashback Friday button in my right-hand column. I thought maybe giving you a little bit more of a heads-up might help.
As for my Flashback Friday…
For the past two weeks I have talked about my ice skating career; but what I failed to mention was that during high school, I took a step back from the sport. I devoted so much of my life to figure skating that I had failed to get involved in school.
It was at that time that I decided to take up dancing. My high school had a Dance Line which was more-or-less a part of the marching band. Hundreds of girls tried out every year and only 20 or so would make it.
My freshman year, I'm sad to say, I did not make the team. They had only taken three freshman that year but I was determined to make the team the next year, so I took up some classes.
I did make it my sophomore year and went on to be team captain my senior year. It was one of the best times of my life!
   Everyone always asks me if I regret not pursuing my ice skating more and I can honestly say I don't.
Being on the Dance Line provided a lot of opportunities that skating never did: I was able to perform outside the Lincoln Center in New York City, I performed during the half-time shows of a Georgia Tech game and a Falcons game, I got invited to perform at a Super Bowl (I do regret not doing that), I marched in a few parades, and it is with this group of girls that I got to perform in the Opening Ceremonies of the 1996 Summer Olympic Games in Atlanta.
Like I said, I wouldn't change a thing.
Last week I noticed many of you had gone around and left comments for everyone…I was so proud!! : )  So if you have a spare minute or two again, visit some of the other links and leave them some lovely comments. It made my day seeing that you girls had done this last week, so I can only imagine how excited those were who received the  comments.
Flashback Friday Participants
Powered by... Mister Linky's Magical Widgets.