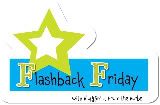 April's assignment: Because April is when a lot of high schools hold their proms, I have dubbed April's theme as "Black Tie Affair". I would love to see photos of you and/or your family dressed up. It doesn't necessarily have to be "Black Tie," but rather it can be any occasion that calls for you to be dressed up a little more than usual: prom, formals, theater shows, balls, parties…you get the general idea. I can't wait to see what you all come up with (I really am hoping and praying that some of you post photos of your high school formals – lol).
I thought I would start this month off with a funny photo from this past summer. Josh and I were invited to our friends' five year wedding anniversary party. The theme was "Prom". Most everyone showed up in nice cocktail attire and then there was Josh and me…
Being the goofballs that we are, Josh and I decided to go in retro prom attire. We just couldn't resist. Our friend Ed went along with the whole thing too and despite our knowing very few people in attendance, we somehow became the talk of the party (I can't imagine why : )
Flashback Friday Participants
Powered by... Mister Linky's Magical Widgets.
>