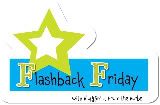 April's assignment: Because April is when a lot of high schools hold their proms, I have dubbed April's theme as "Black Tie Affair". I would love to see photos of you and/or your family dressed up. It doesn't necessarily have to be "Black Tie," but rather it can be any occasion that calls for you to be dressed up a little more than usual: prom, formals, theater shows, balls, parties…you get the general idea. I can't wait to see what you all come up with (I really am hoping and praying that some of you post photos of your high school formals – lol).
Awwww man, I can't believe this is the last Friday of April. I have had such a great time looking at all of your "Black Tie Affair" pictures. I really feel that I have gotten to know each one of you a little better this month by the pictures you have chosen to post. We might just have to do this one again sometime.
Since this is the last week of April and I have posted pictures from middle school and high school, I figured I couldn't leave out my college years.
When I was in high school my mom and dad paid for my dresses and hair appointments so that I could look my best when I went to formal school functions. In college…well, not so much.
Don't get me wrong, I am glad they didn't pay for everything after I had left home. It showed me how spoiled I actually was and forced me to prioritize what was important and what was not: spending hundreds of dollars on a dress I would wear for one evening no longer seemed that important.
In college, I bought my formals at Ross (this one was $15)
or on a final sale rack at Dillard's (this one was $20).
I recycled my high school dresses (anyone recognize these girls? – that's me, Jayna, Amanda and Mandy);
and I even borrowed from friends (that's me and Lynn and two other girls from college).
The lesson I learned from all of this: you can still have a good time with your friends even if you don't spend a dime.
Thanks everyone for joining in this month and remember, if you have a spare minute or two, stop by some of the other Flashback Friday participants' blogs and drop them a comment.
May's assignment: Since so many people get married during the month's of May and June, I have designated May's theme as "Going To The Chapel". So get out photos of your wedding, your sibling's wedding, your best friend's wedding; heck, you can even post photos of bridal showers, bachelorette parties, rehearsal dinners, and honeymoons if you'd like (just remember to keep them family friendly).
Here's to another great Flashback Friday month!
Flashback Friday Participants
Powered by... Mister Linky's Magical Widgets.