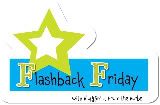 May's assignment: Since so many people get married during the month's of May and June, I have designated May's theme as "Going To The Chapel". So get out photos of your wedding, your sibling's wedding, your best friend's wedding; heck, you can even post photos of bridal showers, bachelorette parties, rehearsal dinners, and honeymoons if you'd like (just remember to keep them family friendly).
I realize I'm getting this up a little late today and for that I apologize. Beau had his ENT consultation yesterday and then we did a little errand running in the city once we were done with that. I will do a post regarding the outcome of his appointment later. For now, let's get to the first installment of this month's Flashback Friday theme: "Going To the Chapel".
Over the years, I have definitely been in my fair share of weddings. I really don't have any great stories to tell…only embarrassing photos from a few of the weddings I have been invited to be a part of. The first couple ought to have you rolling on the floor.
In this first photo, I was to hand out rice with my friend Naomi. I can't for the life of me remember whose wedding this was; but apparently, I had yet to learn to sit with my ankles crossed – what a little lady I was (rolling of eyes).
So, you thought my perm was bad from my middle school formal. Check out this next picture from my cousin Jennifer's wedding. Not only did I have the perm going for me but I also had the "wings" and the big bangs. All I can say to this catastrophe was that it WAS 1980 and that WAS the style. And yes, because my mom was so proud of this photo of my brother, sister and me, she sent it out as our Christmas card that year (LOL).
Luckily the perm phase ended and the next photo was taken later…much, much later when I was in college. This was at my cousin Tab's wedding and is of my entire fam.
Also in college I was in my friend Rachel's wedding. She was also my sorority little sis and one of my traveling companions during my semester in Europe. She is a such a doll…actually she is one of the most sarcastic, random, quick-witted people I know and for that I LOVE her.
A few months after Jack was born (so please excuse the post pregnancy fat I had yet to lose), I had the opportunity to be in two more weddings.
The first was my brother's. He and his beautiful wife Kim had asked both Josh and I to be in their wedding. Jack wasn't in it but since we were dressed up we thought it was only right to have him dress in a tux as well.
The second wedding that summer was back in Georgia and it was the one of my best friend since the fourth grade. Seriously, Haley and I have been friends forever. We've experience it all together: ice skating trips, first crushes, first heart-breaks, graduations (high school and college), and then our weddings. It was so special to be a part of hers.
These photos do not represent all of the weddings I have been in. There have been others (my aunt, another cousin, my husband's sister); but these are the ones I could find pictures of at the time (lol). I can't wait to see what memories you all dig up…it had better be some good ones; after all, I posted a pic of me with "wings" (yikes).
Flashback Friday Participants
Powered by... Mister Linky's Magical Widgets.