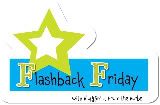 May's assignment: Since so many people get married during the month's of May and June, I have designated May's theme as "Going To The Chapel". So get out photos of your wedding, your sibling's wedding, your best friend's wedding; heck, you can even post photos of bridal showers, bachelorette parties, rehearsal dinners, and honeymoons if you'd like (just remember to keep them family friendly).
If you've been wondering what I've been up to, I can honestly say absolutely nothing. The boys were sick at the beginning of the week and as of Wed. I have been sick. I am usually one of those "tough it out" kind of people but I am now in the process of trying to make a doctors appointment for today. I am telling you all of this to explain why I have neglected my blog and all of yours. Please forgive me. I hope to be more on my game next week; but for now, I am just hoping to feel better soon.
As for Flashback Friday….since I have been feeling under the weather, I am just going to post some pics of Jack in his very first wedding.
In 2006, Josh's cousin got married right here in small town America and asked Jack and his cousin Brynnley to be a part of her wedding.
They were so stinkin' cute it was ridiculous; of course, I am Jack's mom and Brynnley's aunt, so I tend to be a little bit biased.
During dress rehearsal, the kids performed beautifully, perfectly.
The night of the wedding however, was a different story. There was one point of the evening, right before the bridesmaids were to proceed down the isle, that the music came to a stop and everything was silent. Then from the very back, you hear Jack yell out "Oh, maaaaaan." The church erupted in laughter.
And even though he had done such a beautiful job walking down the isle the night before, with all of the people there, Jack got a little turned around. Brynnley had to turn around and yell, "Jack, come on!"
and then Nana had to proceed down the isle to help him out.
Despite those few little "mishaps," the kiddos were still adorable. Now we are looking forward to seeing how Jack AND Beau perform for my sister's wedding in November.
**Mr. Linky seems to be experiencing some technical difficulties, so if you fail to see the linky, please check back again later.**


Flashback Friday Participants
Powered by... Mister Linky's Magical Widgets.