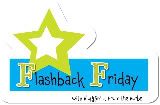 August theme:  "Water, Water Everywhere" - post photos of lake, pool, sprinkler, ocean (you get the point) fun.

I have decided to try and shorten my Flashback Friday posts because in all honesty, they have gotten long and ridiculous. So this week I am only posting a few – some definite oldies but goodies!
These first two were taken in West Palm Beach, Florida in May of 1979. I was 8 months old and enjoying every minute of being out in the sun and water with my two favorite people – my mom (who will surely disown me now that I have posted yet another pic of her in her bathing suit)
and my dad.
The next two were also taken in May 1979, but this time I was enjoying the sun and water in my granddad's backyard. (Enjoy this one because it is the ONLY time I will ever post a photo of my bare bottom on the internet because this is the ONLY time it was ever really cute.)
And this is a photo of my cool cousin Tab, who I'm sure was being a very good sport at her oh-so-cool age, by playing with me in what looks like only an inch of water.
Can't wait to see what you all post!