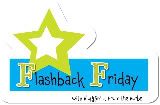 August theme: "Water, Water Everywhere" - post photos of lake, pool, sprinkler, ocean (you get the point) fun.
I decided to stick with some oldies but goodies again this week. The following photos were again taken in West Palm Beach, Florida in 1979; but this time we were enjoying some time at sea aboard my Granddad's new boat which he had named Mi-Sue-Deb, after my dad, my mom, and my aunt.
Apparently I was 8 months old going on 16.
My very handsome Granddady and me…I can say my Granddad is handsome, right?
Hey Dad, don't you think you should be keeping your eyes on where you're going?
Mom, you were so cute with that lime green hankie on your head : )