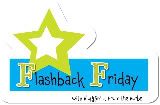 August theme:  "Water, Water Everywhere" - post photos of lake, pool, sprinkler, ocean (you get the point) fun.
Yes, I'm still here. I have just been overwhelmed with this first full week of school, editing photos, and just really trying to establish a routine that works well for me and the rest of my family.
But you know I can't miss a Flashback Friday – so, here are yet some more pics of my childhood and the time we spent in West Palm Beach, Florida. These were taken in May of 1980 when I was a little over a year-and-a-half old.
Me with my dad at the beach. W00-woo look at those legs (my dad's not mine)!!
Me with my mom. (I am loving my weird-o swimming device!)
And me at the pool…Since my granddad's place didn't have a pool, one of the hotels graciously let us use theirs. If I remember correctly, the staff of the hotel knew us by name because we were there so much.