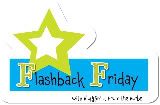 September's theme: "Dear Old Golden Rule Days" – post any type of school photo, whether posed or candid.
Oh. My. Word!! These photos just keep getting better and better. You all must realize how much I love and adore you, right? I mean seriously, the fact that I would post such horrific photos on here should attest to that fact.
Yeah, I got nothin'.
Apparently though, I went through a stage where I thought hunter green was a good color for photos. Why? I have no idea!
Simply tragic! And check out those eyebrows!
However, did you know that blazers and padded shoulders were back in style?
This photo should be a warning to all those who choose to follow said fashion style – in 15 or 20 years, you'll look back and say, "What the heck was I thinking?!"