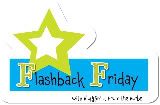 October's theme: "Costume Party." You can post photos of you or your children dressed in some sort of costume and it doesn't necessarily have to be a Halloween costume.
I spent the beginning of my third year of college abroad with some of my closest and dearest friends. We lived in Vienna, Austria but were able to travel to 20+ countries while there. It was an amazing experience!
While there, we all celebrated Halloween together. Since spending money on costumes was not really an option or a necessity, we got creative with what we could find in our rooms.
I opted for a rather scary Goth look since I had just purchased this really killer black Euro-coat; and my friend Jonathan went as David Hasselhoff because it seems like everywhere we went, Europeans loved the Hoff.
All of my friends got even more creative.
Some used duct tape,
other's used bed sheets,
while Jayna, Lynn and Mandy used some of their adorable accessories and t-shirts they had in their suitcase.
We really had such a blast. It's so hard to believe that it was exactly 10 years ago that we were all there – unmarried, no children, and the world and all of its possibilities at our fingertips.