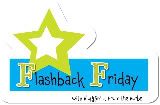 October's theme:  "Costume Party." You can post photos of you or your children dressed in some sort of costume and it doesn't necessarily have to be a Halloween costume.
Look at me go! I think this is the first time I have published Flashback Friday early, well, in quite some time.
In college, it seems like I was constantly dressing up for one thing or another…I think a lot of that just comes with the territory of being in a sorority (or as we called them "Social Service Clubs").
We were constantly have one themed soiree after another.
From Luau's
to Disco Parties,
and then even during our annual "Spring Sing" show…
  it seemed like the fun would never {and I do mean never - in the most sarcastic way} end! : )