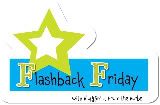 November's theme: "Family Ties." Post pics of you and your family, immediate or extended.
Where October went, I have no idea. But here it is November already and time for a new Flashback Friday theme. This month we are celebrating family.
I'm thrilled because next week, I am headed out of town to see much of my extended family. My sister is getting married and so everyone will be there - aunts, uncles, cousins, grandparents.... It feels like the last time I saw many of these people was seven years ago at my own wedding – how sad is that?! But since our moving to Oklahoma, I have had little opportunity to go back east and visit with my relatives and I can't tell you how sad that makes me.
It just seems like life passes us by so quickly; and for some reason we don't seem to take the time to spend with loved ones.
These two girls are my cousins, Gina and Tabitha (who will probably kill me for posting this photo on here); and my brother and I are the ones on the backs of the bikes. This was taken in West Palm Beach, Florida (our favorite place to vacation growing up).
Obviously a lot of time has passed between this picture and now. Life has led us all down different paths and each of us now has our own families to take care of. Unfortunately life and distance has caused us to grow apart; but when we do get together every few years, it's as if we're magically transported back to when life was simpler.