Finally, I have created a Widget for you to place either permanently in the sidebar of your blog
and/or
weekly within your post to link back here to Flashback Fridays. It really would be fun if we could get more people involved.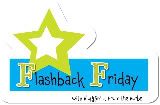 This week's Flashback Friday really doesn't need an introduction or a snippet of what it's about. It pretty much speaks for itself.
Brilliant idea, don't ya think?
Flashback Friday Participants
Powered by... Mister Linky's Magical Widgets.