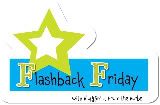 February's assignment: For every Friday in February, post a picture of "Love". That means you can post photos of people in love or showing love. You could post photos of those you love or simply photos you love. February is pretty much up for grabs as to what you can post. Can't wait to see what you all come up with.
First of all, I would like to thank you all for your kind words yesterday regarding Jack's behavior. It is so nice to know that I am not alone during the struggles of motherhood.
Anyway, as for me and my Flashback Friday post, I wanted to post this photo of my kiddos. It was taken in my hospital bed after I had given birth to Beau and right before we checked-out to leave. I love that Jack loves his brother Beau so much. I only hope that they always get along as well as they are in this picture.
If you all have a spare minute, please visit some of those who have linked and leave them a lovely comment or two. Goodness knows we ALL love to get comments : )
**Also, if you are an Oklahoma blogger and have yet to vote for the
Okie Blog Awards
, please remember to do so by tomorrow, Feb. 7!**
Flashback Friday Participants
Powered by... Mister Linky's Magical Widgets.