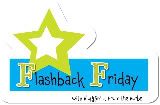 April's assignment: Because April is when a lot of high schools hold their proms, I have dubbed April's theme as "Black Tie Affair". I would love to see photos of you and/or your family dressed up. It doesn't necessarily have to be "Black Tie," but rather it can be any occasion that calls for you to be dressed up a little more than usual: prom, formals, theater shows, balls, parties…you get the general idea. I can't wait to see what you all come up with (I really am hoping and praying that some of you post photos of your high school formals – lol).
Since I wrote that it was my desire for you all to post some of your photos from high school formals, I thought it was only fair if I posted some of mine. Besides, I don't think it gets much worse that the middle school formal pictures I posted last week (lol).
(That's my dad by the way, not my date; although, I would have been honored to escort him to my prom – love ya, Dad)
Prom, although a lot of fun, I found to be highly overrated. It was just another school dance…it just tended to cost a little more money than say Homecoming or Sadie Hawkins.
Prom at my high school was a lot different than the ones that are held at the school my boys will most likely attend. Here, they have dinner and the dance at the school. Where I went to school, we rented a limo
with a bunch of other couples,
went to dinner at a fancy restaurant,
headed to the dance,
and then afterwards went to one person's house from our group and spent the rest of the evening there watching movies, playing pool, etc., etc. In essence, our proms were an all-night affair…one last hurrah, if you will, before the end of the school year.
I really wish I had more interesting stories to tell of my proms but hopefully the pictures are entertaining in and of themselves.
Flashback Friday Participants
Powered by... Mister Linky's Magical Widgets.