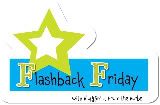 July's theme: Holiday Road. Post photos of past vacations.
Yay!! Time for some more Flashback Friday. Since last month was a bust, we will stick with the schedule but will come back to the "friends" theme sometime in the future.
My parents lived in the beautiful state of California for a short year back in 2005. Jack and I got to spend a week or two out there with them. Although we were there so that I could decorate and paint my mom's house, we did manage to squeeze in some sightseeing.
I can't tell you where all we went because I honestly don't remember. What I can tell you is that we took Jack to Disneyland; and even though he was way young, he loved it!
We got to see the red carpet all set up for the Oscars.
We went on a boat ride,
And simply got to hang out together.