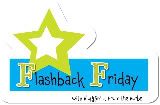 July's theme: Holiday Road. Post photos of past vacations

I am a little late in getting this up this week, mainly due to the fact that this evening is our Relay for Life and I have been terribly busy and partly due to the fact that I could not get my scanner to work (thus my lack of photos for this week).
Because it is our big night, I wanted to talk a little bit about the woman for whom I am walking in memory of – my grandmother, Lois.
She died of breast cancer in November 1982. And even though she was not a part of my life for very long, she left behind a wonderful legacy. She was a beautiful woman, who held her faith and her family very near and dear to her heart. She was as southern as they come, believing in good manners, frilly dresses, and beautiful penmanship.
One thing I remember most about her though, was the fact that her favorite place in the world was her home-away-from-home in West Palm Beach, Florida.
West Palm was her slice of paradise here on earth and the only thing she enjoyed more than being down there, was sharing that time with her family. So anytime we had a few free days, we headed off on vacation.
Even after she passed, we would still go down there on occasion. I think it is where my mother felt closest to hers. And even though we no longer venture towards that piece of paradise, it will always hold a very special place in our hearts just as my grandmother Lois always will.
I think that she would be so honored and proud of my walking tonight and so thankful to those of you who have helped in sponsoring me in this amazing event. So from her and from me, thank you from the bottom of our hearts. Maybe one day the cure for this terrible disease will be discovered.