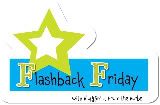 August theme:  "Water, Water Everywhere" - post photos of lake, pool, sprinkler, ocean (you get the point) fun.
Do you remember a while back when we were posting photos of "Black Tie Affairs" for Flashback Friday?
Yeah, well I do; and  if I remember correctly I had at one point said that "I use to not be so cool. My eyebrows were untouched, I permed my hair and my keen fashion since had not yet fully developed" and then I posted a pretty embarrassing photo.
Yep, that's the one.
But let me tell you something…THAT photo has got nothing on the ones I am getting ready to show you.
OH. MY. WORD!! Yes, that is me on the left. I wish I could tell you when this was. I am sincerely hoping it was the 80s – because, again, with the perm…Really?
Oh, just wait it gets worse – A LOT worse.
So even though I do not know when these photos were taken, I can tell you that they were taken in Panama City, Florida. My friend Jennifer and her family invited me to tag along with them on one of their family vacations.
As to who was actually in charge of packing my suitcase…
well, only the good Lord knows the answer to that one.