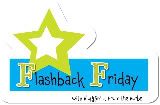 September's theme: "Dear Old Golden Rule Days" – post any type of school photo, whether posed or candid.
I seem to be on a roll of posting embarrassing photos of myself, so why stop now?
When searching through some of my old school photos, I came across the following portrait.
Seriously, what says "school" more than one of the cheesy class photos?! Can you pick out which one I am?