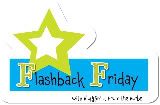 September's theme: "Dear Old Golden Rule Days" – post any type of school photo, whether posed or candid.
I originally had something else planned to post for this week's Flashback Friday; but with Patrick Swayze loosing his battle with Pancreatic Cancer on Monday, I decided to change it up a little bit. Rather than posting a photo from my school days, I have decided to just post a story.
Patrick Swayze got me into a lot of trouble as a pre-teen.
I'm pretty sure I was in the fourth grade. It was my first year in a public school. And let's just say my parents were pretty…conservative.
Dirty Dancing had come out on VHS and everyone was talking about it. I begged and pleaded with my mom to let me watch it, knowing full-well the answer would be a resounding NO because dancing was of the devil. (I'm just kidding. Those were not my parents' exact words; but that was pretty much the general idea. And don't worry, they've lightened up ALOT since then.)
So I went about my sheltered way and missed getting to talk about the craze with everyone else.
Then one week, I got an invitation to a slumber party. I was so excited. My first real slumber party! All the girls at school were talking about it and I was thrilled to be a part of the conversation again.
Friday evening finally rolled around and as my mom was dropping me off, she leaned over to kiss me goodbye and to tell me that if the girls were planning to watch Dirty Dancing, I should call her immediately and she would come pick me up.
Sure enough, the evening rolled on and once we were all settled into our sleeping bags, one of the girls popped Dirty Dancing into the VCR. My conscience was yelling at me to call my mom; but my desire to fit it got the better of me. I of course stayed and watched the move – and LOVED it – but I knew that if my mom ever found out, I would be in a load of trouble.
If there is one thing I learned growing up, it was the fact that moms ALWAYS know. And if I learned a second thing while growing up, it was the fact that I am a terrible liar.
Mom picked me up the next morning as scheduled and as soon as I got in the car she asked if I had watched Dirty Dancing. "What?" I asked. (I always ask "what?" when I'm about to lie. I guess I think it's going to give me a few more seconds to get my story straight; when in reality, it just gives me away. The thing is I knew I did it, but I just couldn't stop myself.)
Anyway, my mom immediately knew I was lying and for the first time in my life I was grounded – from what and for how long I don't remember. All I know is that Patrick Swayze was the cause of my early childhood delinquency.