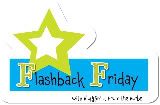 October's theme:  "Costume Party." You can post photos of you or your children dressed in some sort of costume and it doesn't necessarily have to be a Halloween costume.
Since tomorrow is Halloween, I figured I had better at least post one Halloween photo this month.
I think the last time I dressed up for Halloween was my freshman year of college for a sorority party.
I went as Mini Mouse – 1. because I like Mini and 2. because it was cheap; and you know how all college students like cheap.
So, are you all dressing up this year? If so, I would love to hear what you plan on going as!
And don't forget next Friday starts our new Flashback Friday theme "Family Ties". Simply post pics of you and your family, immediate or extended, and link up!