I can't believe Jack turned four this past Monday. It is amazing how fast time flies. He is becoming such a little man...so independent, so strong willed, and sooooo talkative (really, there are some days where the kid just
will not
shut-up). Having said all of that though, I can't imagine my life without him in it. He is a true blessing and makes every day a new adventure.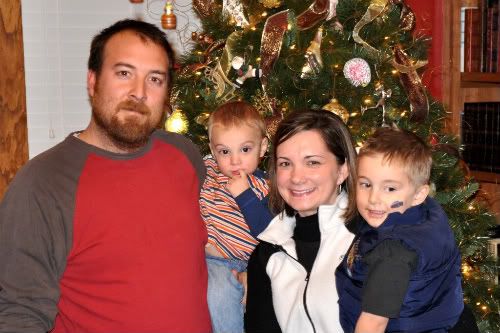 We celebrated his big day on Sunday with a
Cars
themed party. Jack has been addicted to that movie for two years now. You would think that after the one-millionth time of watching it you would be sick and tired of Lightning McQueen...not Jack - he wants you to press play and start the movie all over again (I, on the other hand, would love to throw the movie out the window).
Jack had a wonderful birthday. His cake was of course a cookie cake - since he is not fond of real cake (seriously, what kid doesn't like cake? - I wish I didn't like cake...my thighs wish I didn't like cake - unfortunately I do). So anyway, the place where I got his cookie cake would not decorate it in a
Cars
theme so I had them put the border on and the "Happy Birthday Jack" on and then I decorated the rest. It wasn't great
but it served its purpose...and at least he seemed to like it.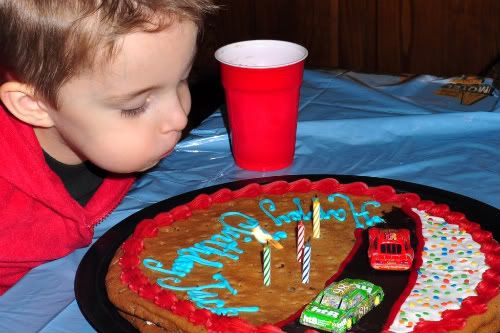 On his first birthday, I started a tradition of framing one of his photos in a signable mat and having everyone who attended his birthday leave their birthday wishes on it. I am not good about saving birthday cards and such, so I thought this would be a great way to keep all of his well wishes in one place. Originally I said I would only do it until he was five; but, I may end up changing my mind and continuing the tradition on just a little longer - I guess I can make that decision later on though.
Jack received many gifts, all of which he loved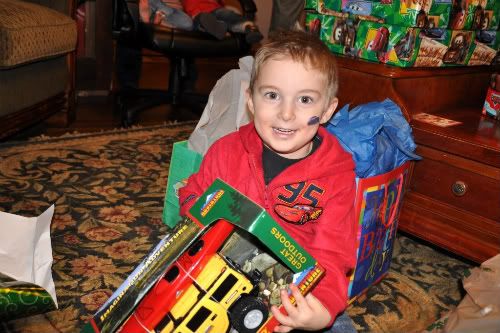 but his absolute favorite of the evening was the Imaginext Fire Station. He played with it for hours after the party was over and then woke up the next morning and started playing with it all over again.